Richard Harrison Lartey for a moment seemed like he was about to be Ghana's biggest heavyweight sell to the rest of the boxing world but a chain of avoidable losses and forgery seem to have bundled all that into a ditch.
The heavyweight boxer has been banned for five years by the Ghana Boxing Authority (GBA), an action that will be circulated to all its affiliated international sanctioning bodies including the WBC, WBA, WBO and IBF. He used fraudulent means to honour his last bout in the UK and will serve this punishment which takes retrospective effect from March 11, 2021.
The Details
Richard Lartey Harrison was found to have forged a release letter from the Ghana Boxing Authority (GBA) with a forged signature of the GBA Secretary-General, Patrick Johnson, for his bout with Fabio Wardley in the UK on November 21, 2020. He lost that bout by a second-round TKO.
Subsequently, he refused to appear before the Ghana Boxing Authority, after he was summoned on three occasions – November 26 and 30, 2020 and March 9, 2021.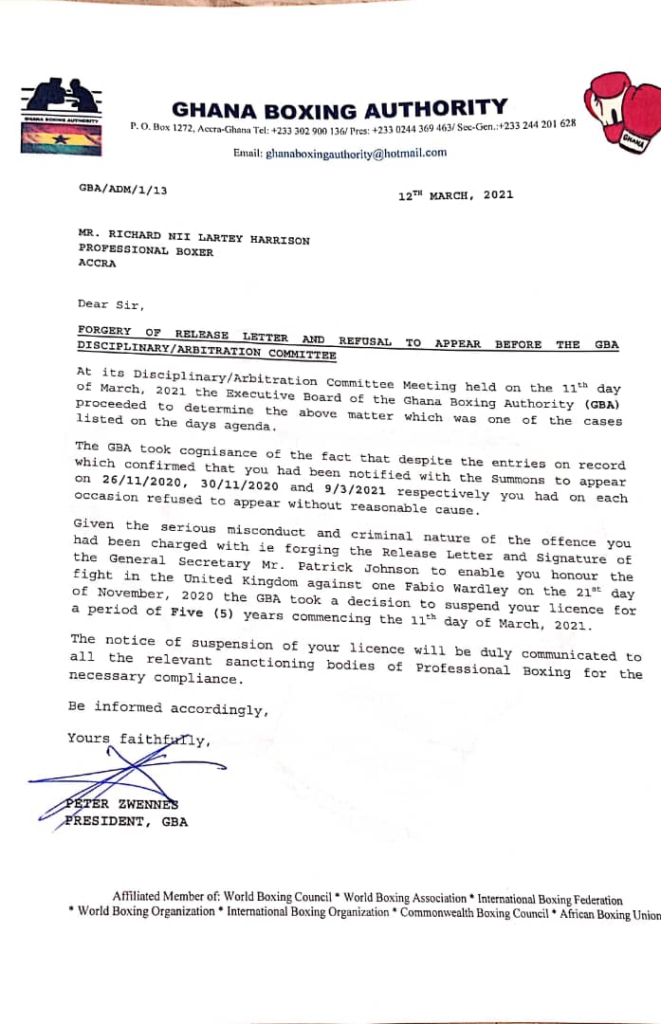 Consequence
His career has surely ground to a halt with this development. The ineligibility to fight in Ghana and elsewhere could bring him some challenges, especially if he hardly has any other income stream.
Last five bouts
Richard Harrison Lartey defeated Burkina Faso's Boniface Kabore to annex the WBO Africa at the Bukom Boxing Arena in August 2018. He successfully defended it against Kenya's Morris Okolla months later at the same venue to book a date for the biggest night of his career.
Unfortunately, he fluffed the opportunity when he fought Daniel Dubois for the vacant WBO global heavyweight title. The Ghanaian suffered a fourth-round KO in that bout staged at the Wembley Arena in London. Two more losses followed – that against Nathan Gorman and Fabio Wardley.
Clashes with management/promoter
In the last two years, the heavyweight has had some major disagreements with his promoters and managers, Cabic Promotions, headed by Ghanaian businessman, Ivan Bruce-Cudjoe. The disagreements ranged from percentages from his purses from some of his fights to contractual breaches.
This beef degenerated into episodes of allegations against his promoters on media platforms. Cabic Promotions at a point resorted to legal action after it was found out that Lartey had negotiated a fight with Frank Warren's Queensberry promotions, without their knowledge.
Cabic Promotions eventually allowed Lartey to honour the fight after he agreed to certain conditions. The Accra -based, heavyweight currently holds a record of 14 wins and four losses with 11 of the wins coming by knockouts.