Socrates Sarfo
The National Film Authority has served notice of enforcement of the law that empowers it to preview and classify audio visual content meant for broadcast.
This includes feature films, short films, TV series, selected TV programs, documentaries among others.
There have been calls in the last few days for some regulatory action after it emerged that two teenagers allegedly killed a 10-year-old boy for rituals.
Former President John Agyekum Kuffour is urging authorities to clamp down on the activities of fraudulent traditional priests using the media to propagate get-rich-quick messages.
The National Media Commission says it is unable to deal with the matter as it lacks the legal mandate. Its chairman, Yaw Boadu Ayeboafu also says blaming TV spiritualist for the killing amounts to a lazy investigation.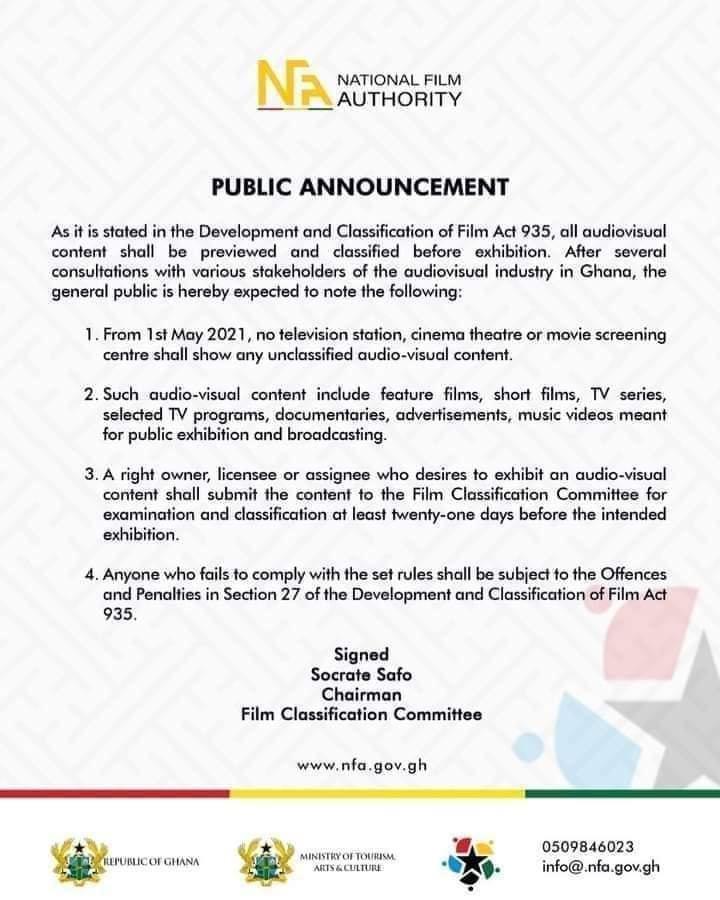 Minority Chief Whip Muntaka Mubarak agrees with this view and believes changes must be made to the law to enable the NMC to deal with the matter else the nation risks recording more of such incidents.
Minority Chief Whip Muntaka Mubarak agrees with this view. He told Luv FM the law must be amended to empower the NMC
"The best time to do it is now. Let's team up and deal with this matter because if not, it will get out of hand," he said.
Ghanaalert news has sighted a statement from the National Film Authority indicating its desire to enforce the Development and classification of film Act. Section 27 of the law makes it an offence for any person to exhibit audiovisual content without submitting it for preview and classification.
The law also empowers the Authority to promote the moral ethical and aesthetic values of the Ghanaian society.