Bastie Samir
He is not close to hanging his gloves but one of Ghana's undefeated potential world champions Bastie Samir has set his sight on working for the corner when he calls it a career. The decision to become a boxing trainer, out of all the possible options is inspired by some factors which he shared with Ghanaalert sports.
After recording 17 knockout wins out of 18 bouts and never tasting defeat as a professional boxer as well as having a solid amateur foundation, Bastie should be one of Ghana's best products to vie for a major world title.
"One day when I hang my gloves I would like to become a boxing trainer. I would like to learn from coach Asare so I can help him out as well as develop some young boxers. He has a lot of experience when it comes to this job and I wish to tap into his vast knowledge," he told Joy Sports.
Batsie started a professional career that saw him record 10 straight knockouts in the US while he was based in Nevada. He fought in locations including Atlanta, Washington, San Diego, Las Vegas and Philadelphia. Meeting these varied crowds in those destinations further built on his already existent confidence. The continuous wins via knockouts brought reminisce of Ghana and Africa's Azumah Nelson who recorded a similar chain of wins during the formative years of his pro career.
Along the line, he and his younger brother, Issah signed a promotional deal with Oscar de La Hoya's Golden Boy Promotions but this proved a non –beneficial decision. What was rather expected to be a fluid chain of bouts under the deal became months of inactivity leading to the eventual cancellation of the contracts.
"I want to do something special in the sport before I quit but a lot of support is required. The Samir Brothers are gifted and can do amazing things."
Background
Bastie Samir led a generation of very talented boxers in Ghana's national team ahead of the 2008 Olympic Games. The national team at the time was handled by a Cuban coach Roberto Ibanez Chavez with Ofori Asare as his assistant. While there were inadequacies within the administrative and organizational structure in Ghana, the boxers still had a good number of competitive opportunities locally and internationally. He fought in competitions in West Africa, invitational tournaments and eventually the African Championships, some of which served as qualifiers for the AIBA world championships and the Olympics.
Through these, Bastie showed great promise and eventually won four medals on the stage of the African championships over the course of time. As a professional, he has met and worked with some of the greatest names in the sport. They include Floyd Mayweather Jnr and Roy Jones who he sparred with. He also met the legendary Oscar De La Hoya.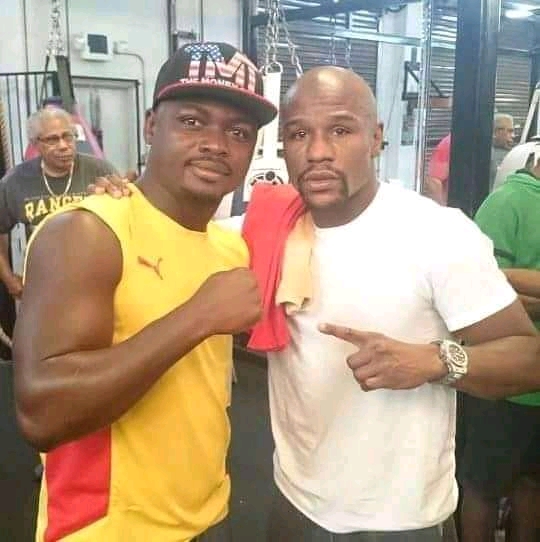 Inspiration
Batsie's immediate inspiration comes from his long-time coach Ofori Asare, who coincidentally trained his father Issah Samir during his active days as a boxer. Coach Asare is currently Ghana's highest rated boxing coach at the amateur level with a three-star rating by AIBA.
There are many other crème Ghanaian trainers whose stories can give Bastie inspiration on this intended journey. The legendary Attuquaye Clottey was D.K. Poison's (David Kotei) trainer when he became Ghana's first boxing world champion. Mr Clottey founded the Akotoku Boxing Academy in James Town, Accra and also gave Africa's greatest boxer Azumah Nelson his foundations. Also on the list are the likes of Daniel Oko Odamtten trainer of Ike Bazooka Quartey who held the WBA welterweight title in the 90s.
Kwame Asante is the first trainer in Ghana's history to have guided two boxers to world title success – Joshua Clottey with the IBF Welterweight title and Joseph Agbeko with the IBF Bantamweight title. Adama Addy also helped Joseph Agbeko reclaim his IBF title from Yohnny Perez in 2010. Ex British Army officer turned trainer Paul Dogboe also guided his son, Isaac, to a WBO super bantamweight title success.
For now, however, Bastie, 34, wants to make the best of the rest of his professional career. After a rather dull period, the light heavyweight boxer is getting back to action. One of the major considerations will be the much-awaited rematch with Bukom Banku, (Brimah Kamoko) which was expected to come off in 2018. Bastie handed Bukom Banku his first defeat in 30 fights in October 2017 via a seventh-round technical knockout.
Bastie will have his first fight of 2021 against the relatively inexperienced Felix Mankatah in a contest on April 9.