Family members of the 35-year-old man, who allegedly attempted suicide in Parliament, are appealing for support for their relative.
According to Afia, the elder sister, Kojo Mensah lives with pellets in his arm and neck after surviving an armed robbery attack in Nigeria.
Sister Afia explained that, her brother was driving his expatriate boss to his apartment in Nigeria when they were ambushed by the armed robbers but Kojo survived after he managed to run into an uncompleted building.
"He was shot in the hand and neck while escaping the crime scene and his boss was abducted," she revealed in an interview with Asempa FM's Ekosii Sen host, Osei Bonsu in Sekondi-Takoradi.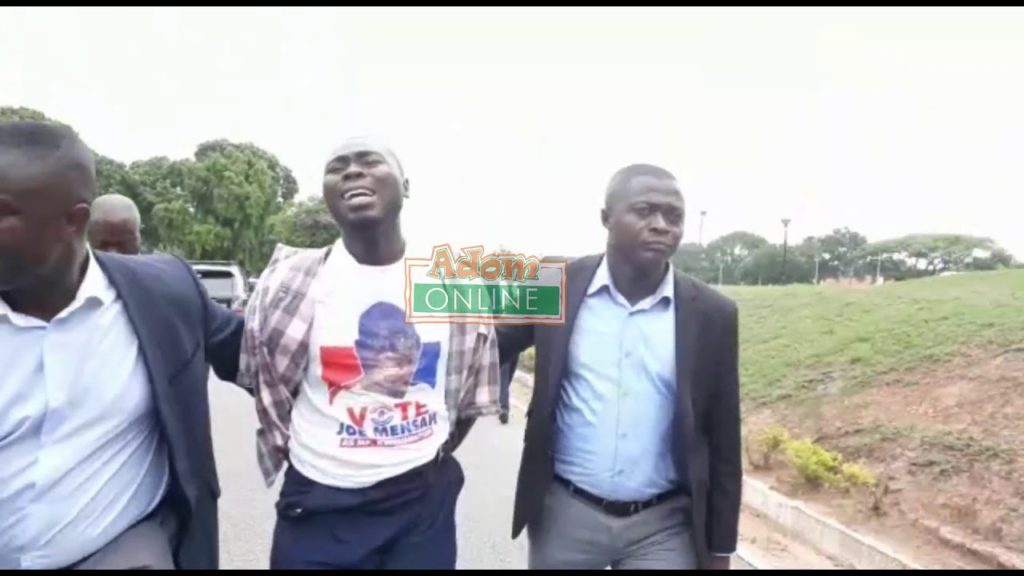 Kojo Mensah (M), being taken out of Parliament
Sister Afia noted that, all efforts to get compensation from the Nigerian company he worked for, proved futile leading to his frustration.
The distraught sister maintained that, Mensah was not in Parliament to commit suicide but to ask for help from the Member of Parliament (MP) for Kwesimintim, Joe Mensah to undergo surgery.

"I was in shock when I heard my brother attempted suicide in Parliament. He will never do that; he just went there for help," she noted.
Sister Afia called on the MP to support his brother to undergo surgery to bring respite in his life.
source: myjoyonline.com