#1) TechCrunch
Looking for a website that obsessively reviews tech products and companies? TechCrunch is the absolute #1 choice on our list of the best tech websites.
With more than 50,000 active users and in-depth, unbiased reviews posted almost as soon as products hit the shelves, it's the most reliable source in the industry.
The best part about the site, in our opinion, is its respected "Crunch Base," a massive database of tech startups (in case you're looking for a partner to do business with or a place to get listed).
#2) TechRadar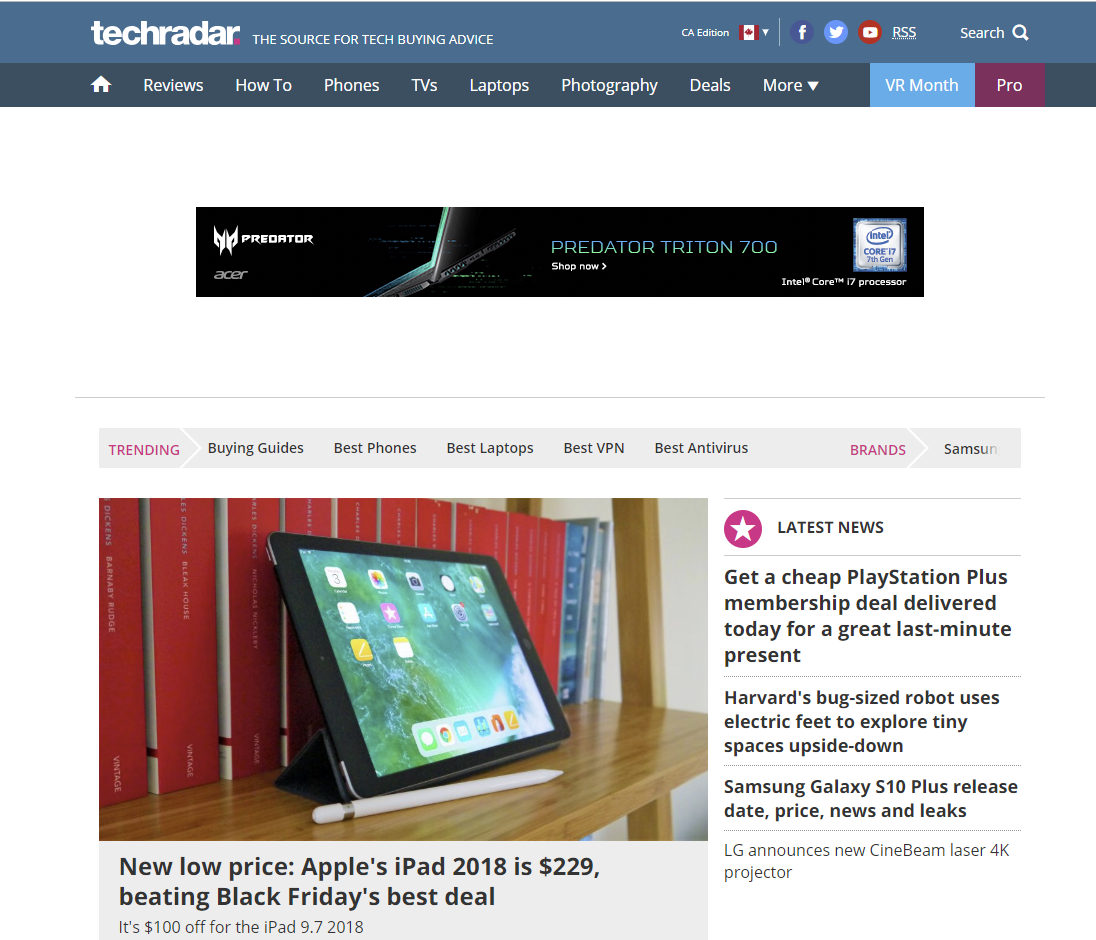 TechRadar bills itself as THE source for tech buying advice. The site features great reviews on all the biggest names with everything written in plain English (even we could understand it, and that's saying something). Phones, wearables, audio equipment, laptops and more—this site is the most respected review site on the web for its size.
If it weren't for the Crunch Base, TechRadar would probably squeeze TechCrunch out of the #1 spot!
Their blog is also an awesome source for the not-too-tech-savvy to learn how to do basic things from setting up new products to troubleshooting annoying issues.
#3) Wired
Wired is the most fascinating entry on the list, hands down. It's a site dedicated to publishing content on how emerging technologies affect culture, events, and politics as well as our everyday lives.
We jumped on for a few minutes and read about everything from Space X's most recent shuttle launch to how Chinese hackers are stealing all of our secrets (we love you, please don't hurt us!).
You can find information about literally anything related to tech: Elon Musk, spying, science, cybersecurity, more Elon Musk, etc.
It's a great place to stay up on current events, learn about technology, and feel better about applying your brain to something other than YouTube.
#4) Lifewire
LifeWire is tech untangled. This site's user experience (UI) is off the charts. The homepage has its articles broken down into easy-to-digest categories. If you're looking for:
How-to's
Fix-it's
Buying guide
User guides
Then this is the best site on the web. Learn 10 new apps that will change your life AND how to troubleshoot pesky browser issues in less than 5 minutes all on the same site. Works for us…
#5) TomsHardware
Tom has been helping us decide which hardware to buy since 1996 (WOAH!).
TomsHardware has all of the buying guides, tech deals, info articles, and product reviews you can stomach, but what really sets it apart is its active community of tech geeks and instruction guides. You can even learn how to build your own computer.
Scroll down to the bottom of the page and get your hands on some juicy tech deals while you're there. Thanks, Tom!
#6) Namecheap.com
This entry is a bit different from the others, but NameCheap is an amazing resource for businesses interested in learning about tech, marketing, SEO, web design, and even mindfulness around Christmas time (no…seriously).
It's a site that mostly sells domains to companies, but their marketing blog is actually honest and helpful. It's not polluted with fake company reviews or guides made to entice you to buy.
Unlike most other SEO blogs, they don't throw a ton of jargon at you that forces you to buy their services just to know what's going on. Their resource center, knowledge base, and blog are all written in straightforward English and teach how to do everything from the ground up.
If the tech info you are looking for is more business related, NameCheap is a much more honest, straightforward blog resource than others.
DigitalTrends is a news, gaming, and tech deals site with a focus on the latest tech products.
It has plenty of the standard buying guides you can find elsewhere but also has a good deal of interesting opinion articles on technology. You can even score some good holiday deals if you hurry up!
#8) LifeHacker
We need to be straightforward here: we LOVE LifeHacker.
It's one of the most unique sites on the web. This quirky website is full of articles to that will help you live more efficiently. Everything from their "How I Work" series containing interviews with famous people to their helpful App Directory, LifeHacker will change your life.
LifeHacker will teach you how to hack your finances, daily life, children (seriously), health and more. It's a must read!
source: ghanaalert.com